LG Washing Machines Prices and Models
Freestanding Large Capacity LG Washing Machines
LG washing machines offer so much more with sophisticated functions and a wide range of wash cycles. Freestanding types with massive 12kg capacity for larger households to more modest 6kg size for smaller wash loads.
The high efficiency is what sets LG's appliances apart from models designed to reduce energy costs and water consumption. A choice of colours from black silver and white with stylish chrome door finishes fit effortlessly into any setting. The Korean brand caters for all your laundry requirements with a variety of specialist programmes for the best results.
Where Can I Buy LG Washing Machines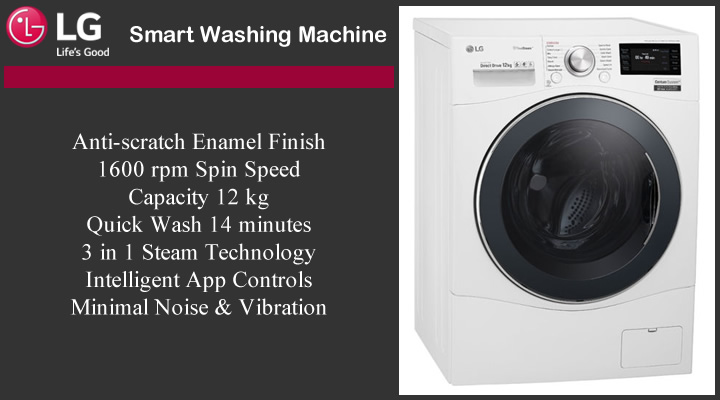 LG Centum Smart Washing Machines
LG's latest washing machine with WiFi connectivity enables you to operate it no matter where you are. Smart remote control, cycle downloads and smart Diagnosis is easy from your smart device. The premium design has an anti-scratch enamel finish and a corrosion-proof surface that is easy to clean. Features include turbo wash, fast 14-minute cycle, steam refresh and Centum technology for minimal noise and vibration.
Reduced Spin Noise and Quiet Wash Cycle
Wash at the best time of day or night without the worry of disturbing anyone. New quieter models designed with state of art technology keeps noise to a minimum. The Inverter Direct Drive motor features fewer moving parts and is super reliable. The latest washing machines from LG are really quiet and built to last with an anti-scratch enamel finish.
Using clever vibration sensors between the motor and drum to optimise the spin speed. The improved design reduces noise and vibration enhancing durability. The vibration insulator, damping system and dual ball balancer all play their part in reducing vibration and balancing out uneven loads. Even better is the unique LG Centum System is backed by an extended warranty for up to 20 years on the DD motor.
Anti Allergy Sterilising Steam Clean
An impressive lineup of washing machines from LG deliver cutting edge solutions to all your laundry needs. You can now do laundry in less time than before while saving money in the process. For a quick refresh use the steam refresh to remove wrinkles and odours in just 20 minutes. Choose the pure steam softener option for a no chemical wash. This is the perfect wash cycle for people with sensitive skin and suffering from allergies.
TurboWash and Quick Washing
LG's range includes 6 Motion Direct Drive washers are highly efficient with TurboWash. Using jet sprays to rinse clothes faster reduces wash times and saves on utility bills too. The 6 motion function moves the drum in multiple directions to suit the programme selected. The drum rotates from left to right and gives clothes the proper care every time. The new level of control provides an improved performance getting clothes ultra clean. Select the wash from cotton, delicate, lightly soiled, stain care etc and the machine will take care of the rest. Quick wash is available too with a speedy 15-minute cycle.
Touch Control Washing Machines with Pause and Add Feature
Anyone who has forgotten an item from the wash load will appreciate the Pause and Add feature. Available on a variety of settings you can press pause to wait for the cycle to stop then add to the wash.
Innovative features such as LG app controls have been also been added that allows you to take control from your Smart device. Starting and monitoring your wash load from anywhere makes washing day that much easier. You will be able to detect any problems and quickly troubleshoot the issues much sooner.