Miele Washing Machines Compare Prices and Models
How Much are Miele Washing Machines?
The German-based manufacturer produces washing machines made to last. A most reliable brand that is highly rated and does a superb job of cleaning clothes. Although a higher price tag compared to others makes, their overall performance offers excellent value for money. The cheapest Miele washing machine comes in at around £550 while the most expensive can be as much as £1599.
Where Can I Buy Miele Washing Machines

A Miele washing machine is hard to beat for quality, intensive spin cycle, ease of use, A-rated cleaning and quiet wash cycles. Miele washing machines make a good investment with long life and economical operation. They may be pricey but worth the outlay if your budget can stretch to it.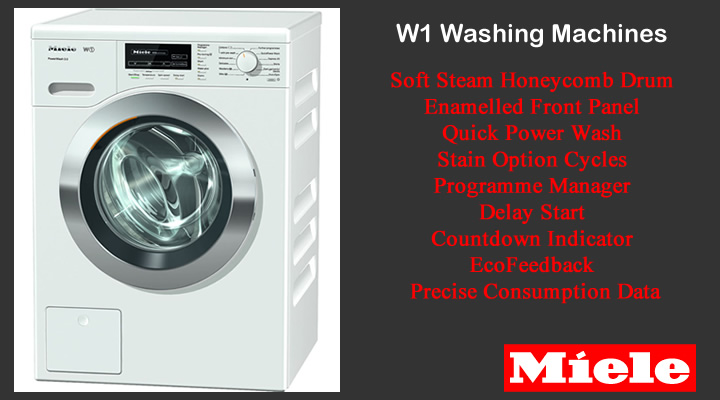 Miele W1 Washing Machines with PowerWash and CapDosing
The Miele W1 washing machine has been tested for the equivalent of 20 years of use. Intensive endurance tests ensure you are buying a reliable and quality washing machine. Advanced features such as the unique soft steam smoothing option make iron easier and faster. There is a quick power wash, cap dosing using portioned detergent and fabric conditioner capsules and a special cycle targeting specific types of stains. Intelligent functions include the Programme Manager: with 5 options to meet your laundry requirements at the touch of a button.
Recommended and Best Buy Washers from Which
The impressive range boasts some of the best washing machines in the market. Tried and tested models have scored well, receiving best buy recommendations from experts Which? reviews. Newer models have a Quick Power wash function that completes a thorough A+++ energy rated wash in less than an hour.
You will find freestanding and semi-integrated washers, a choice of drum sizes of 5.5kg, 7kg, 8kg, and 9 kg capacity with a spin speed of 1400rpm and 1600 rpm. Laundry day will be less of a chore with a Miele washing machine in control. Models come in white chrome with a silver finish. In addition to the regular cotton and synthetics cycles, there are a variety of programmes for specific needs. This can be anything from sportswear, wool to delicate and cotton washes.
Honeycomb Drum Protects Your laundry
An exclusive feature to Miele and one that takes care of your laundry. The patented fabric care feature is specially designed to provide a gentle wash and help protect the wash load. The honeycomb drum has a web-like surface that creates a thin film of water between the drum and clothing.
This gentle cushioning protects the fibres perfectly. During the wash clothes slide across the drum's skin reducing the risk of the damaging effect of spinning. Small perforations at the adjoining corners of the drum are also smoothly polished preventing pilling and laddering of textiles.
Easy Iron with SoftSteam feature
Ironing is quick and easy with the Pre-ironing or Steam smoothing option. The drum is heated after the final spin, the soft burst of steam helps to smooth and remove creases from garments for easier ironing. This smoothing effect loosens the laundry allowing the garments to be easily removed. Best of all, minimum ironing is required after.
20 Minute Quick Express Wash feature
For those looking for a quick wash front loading washing machine, Miele's range includes an Express Wash cycle. This speedy wash is handy for freshening up lightly soiled and small laundry loads. Miele home appliance is very quiet, energy-efficient, tested for longevity and user convenience.
Key features include large navigation display, time remaining indication, automatic dispensing of detergent, delay start-up to 24 hours and water control system to protect against flooding.