Samsung Washing Machine Prices and Models
Samsung  Washing Machines with Ecobubble
Samsung is a well-established brand within the home appliances arena bringing innovative products to the market. Their expertise in the field of technology is carried through to their laundry range of washing machines. With the arrival of some of the most eco-friendly washers to date comes a host of nifty features and time savings functions. Samsung's Ecobubble washing A +++ energy rated machines are designed to use less hot water.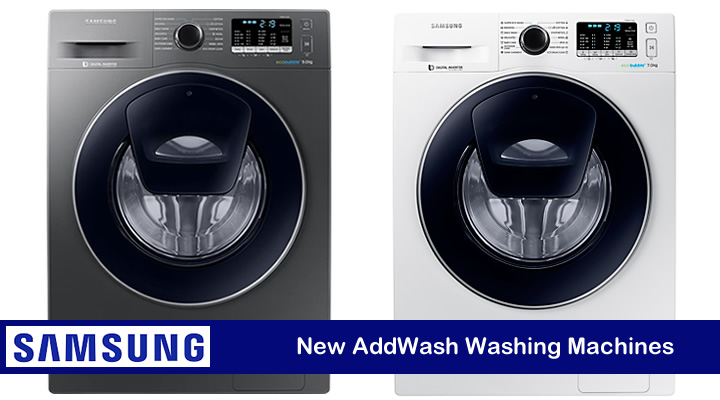 Samsung AddWash Washing Machine Range
Smarter washing has arrived thanks to Samsung's innovative AddWash Washing machines. Designed with an extra door allowing you to add to the wash once the cycle has started. Features Ecobubble technology that mixes water, detergent and air creating penetrating bubbles while the bubble soak delivers intensive stain removal. The super quiet Digital Inverter Motor gives a long-lasting performance with less noise and vibration.
Samsung AddWash Washing Machines
New AddWash models are not only energy-saving they are also much smarter compared to standard washers. At last a machine lets you add to the wash load mid-cycle. The innovative add-wash door can be opened so you can drop in a missed garment, add extra softener or an item requiring a final rinse. Samsung has designed its Addwash washing machines with a door that can be opened on the upper part of the main door. This process can be done with a simple push of a pause button as long as the drum is below 50°. There is also a child lock which prevents children from accidentally opening the Addwash door.
Where To Buy Samsung AddWash & Smart Washing Machines
Smart Touch Control Washing Machines
Samsung's touch screen washing machines are simple to use, good looking and feature a host of advanced programmes. Sporting a streamlined design and packed with the latest revolutionary Smart technology.
Samsung's high-end models are fully equipped to fit easily into today's automated homes. The large digital graphics display makes viewing progress and error messages easy. The user interface cleverly learns washing preferences. It has been designed to remember the most used cycles which in turn speeds up the selection process and saves time. You can even monitor the progress of your wash load cycle and remotely control the machine using an App on your Smartphone.
Samsung Ecobubble Washing Machines
A new technology that uses a bubble generator to dissolve detergent while injecting air to make a rich soapy foam. Their main aim is to wash cool and save energy. The Bubble soak function adds a 30-minute intensive stain removal wash that penetrates deep into the fabric to loosen dirt. Best of all these newer models are incredibly quiet in operation at just 62db.
Are there Washing Machines with Quick Wash?
Samsung washing machines will make light work of your laundry load. They have an extensive range of wash programmes including baby care, easy iron, super eco wash, bedding, wool and hand wash. Functions include delay end timer, time remaining indicator, self drum clean, super speed wash and deep clean bubble soak.
Some models have a quick 15-minute cycle which is great for lightly soiled laundry that just needs a refresh. Spin speeds vary from 1200rpm to 1400rpm and 1600 rpm. Max wash loads are 7kg 8kg 9kg 10kg and 12 kg. Freestanding washers are finished in white, graphite grey or silver.